Tea and Iced coffee Wraps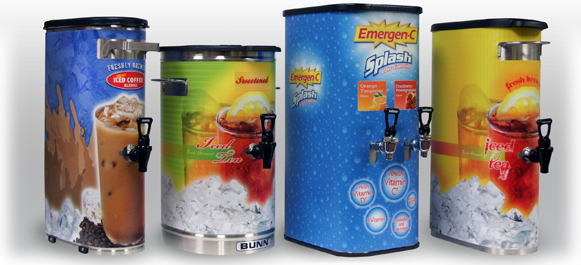 Description:
Market growth and product competition in Fresh Brewed Tea has placed substantial pressure on advertising budgets. Understanding that branding and identity are two of the most important components of your overall marketing program, Identabrew has added to its patented product-line a removable wrap for tea dispensers.
The TeaWrap® creates an appealing and innovative billboard to convey your message.
Every TeaWrap is engineered to fit individual manufacturer's dispensers, with the same properties as our popular CoffeeCoat® for airpots and thermal servers. All wraps are made with polycarbonate film, which is both stain and chemical resistant, back-printed with durable UV ink to protect the printed image as well as providing
a strong visual effect.
Features:
Durable back printed material.
Easy to clean.
Resistant to tearing and cracking.
Easy to apply.
A special locking tab system.
Covers dented equipment for a new look .
Notes:
CoffeeCoats® are engineered specifically to fit each manufacurer's Airpots, Servers, Urns, Decanters and Stainless Steel Carafes.


Customers who use our Coffee Coats also use these related products: