Menu Boards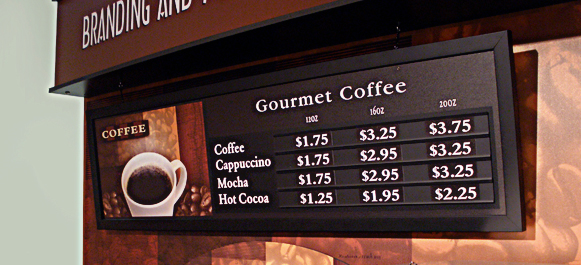 Description:
Menuboards are manufactured based on a Customer specific requsets .
Menuboards can include,
Area for your logo or brand
Dry erase section
Outside frame
Price guide channel strip section
Product information card section for information such as Brew of the day, or blend.
Features:
Our channel Guide and Printed Character Matrix is developed in
one or more press layouts.
We offer a standard layout for your information, or custom layouts can be printed separately. Once printed, the information is trimmed into channel strips that slide into guides on the menuboard.
Notes:
Every part of the menuboard can be cutomized to suit your needs. Menuboards are shipped with french cleat rails for easy
installation.


Customers who use our Coffee Coats also use these related products: